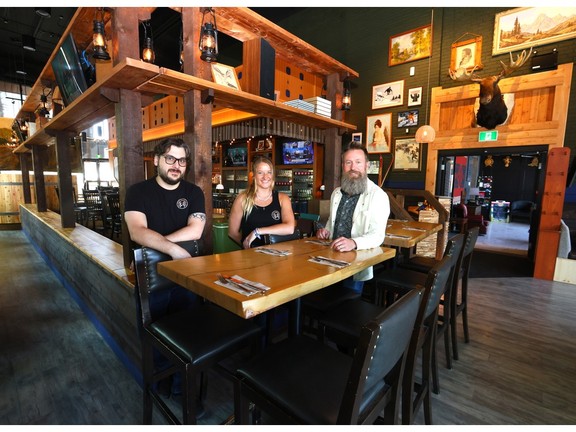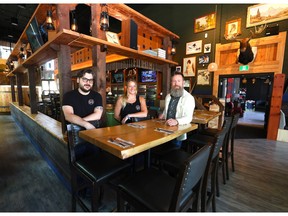 Reviews and recommendations are unbiased and products are independently selected. Postmedia may earn an affiliate commission from purchases made through links on this page.
Article content
It used to be that a restaurant's design wasn't essential to the overall success of the business. Yes, "atmosphere," has always been a factor in restaurant criticism and there have been some extraordinary and inspiring outliers, but restauranteurs of the past didn't necessarily agonize over coming up with a unique look or small décor details. For the most part, as long as the place looked nice (and clean) and there were chairs to sit in and tables to eat at, everything was copacetic.
Article content
And then social media came along.
Article content
Over the last decade, interior design has taken center stage at even the most casual of restaurants in Calgary and around the world, with the names of local design firms carrying as much cache as that of the chef. Admittedly, this mindset has spawned silly details like Instagram walls and nonsensical neon signs and murals, but when done right, high-concept design is worth the investment when it comes to establishing mood and theme.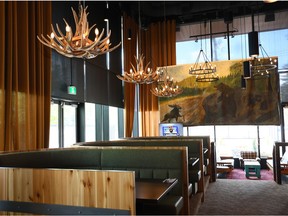 Take The Lodge, a new mountain recreation-themed restaurant that just opened in West Hillhurst, in time for Canada Day. The restaurant sits on the main floor below the Royal Canadian Legion Branch #264 in what used to be the 1918 Tap and Table, which closed when the Legion sold the building earlier this year. The restaurant is now owned and operated by a group of industry professionals who knew their first step in ensuring the new restaurant's success was to come up with a good concept that could transform the warehouse-like room into something cozy and inviting.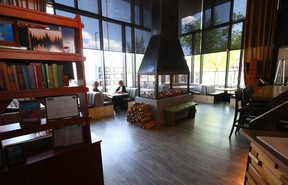 The solution was to hire designers Way of Normal, a new hospitality-specific firm staffed with professionals who have drawn up some of Calgary's most striking restaurants. The restaurateurs had already come up with the name "The Lodge," which informed a swish mountain getaway look complete with ample wood paneling, hot tub-style booths, a shockingly realistic-looking faux fireplace, a little bit of taxidermy, and retro knickknacks scattered throughout. The 184-person capacity room feels scaled down thanks to design tricks that make the floor look higher and the ceiling lower, while also striking just the right balance between hipster chic and the kind of traditional room Legion members (who receive a discount) should find familiar and comforting.
Article content
"We have the opportunity to become a local hangout for people in West Hillhurst," says Chad McCormick, one of the restaurant's co-owners. "This neighborhood is very family-friendly and we're already noticing people seeing neighbors they haven't seen for a long time here. It's very quickly becoming a place for local people to meet up."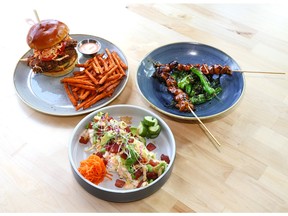 For the food, rather than pushing things over the top with a kitschy mountain-style menu, The Lodge opted for a pleasing collection of dishes suitable for a neighborhood family restaurant. It's Canadiana in the sense that the menu offers a multi-cultural array of inspiration, with appetizers like the on-theme beer cheese fondue for two ($22) and flavourful bites like Korean-style dry ribs with a gochujang honey sauce ($18) and a ponzu-marinated tuna stack served with wonton crisps ($21). The entrees fall into the "well-executed favourites" category, with handhelds like smash burgers ($22) and Rueben sandwiches ($22) as well as a flavourful Hunan chicken bowl ($22) and wild mushroom rigatoni with garlic bread ($23).
Those hot tub barrel booths and the room's chic table-height bar both deserve a classic cocktail and The Lodge delivers with a surprisingly long list of mixed drinks, many incorporating smokiness to fit with that woodsy theme. The Lodge also offers a weekly "apres hour" afternoon happy hour and weekend brunch.
Article content
The Lodge is located at 1918 Kensington Road NW And can be reached at 587-352-1918 or through the lodge1918.com.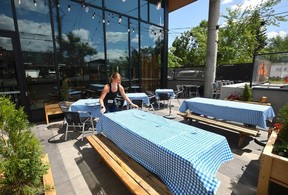 ***
Speaking of food that speaks to the beauty of our country, renowned chef and cookbook author Shane Chartrand has joined the team at the Maple Leaf restaurant in Banff as co-executive chef. The best way to get a taste of Chartrand's signature culinary style is to order from a new feature menu he's created to honor his own Indigenous culture and traditions as well as the Indigenous history of the Banff townsite, which sits on Treaty 7 territories.
The menu, designed to be ordered a la carte, includes exquisitely prepared dishes like a cinnamon-cured salmon appetizer with honey and birch glazed carrots and pumpkin seeds ($24), an 8-ounce piece of bison tenderloin with house applesauce, root vegetables, and potatoes ($80), cornmeal-crusted rainbow trout with wilted wild onions and deviled eggs ($45). For dessert, there is a huckleberry galette ($14), made with a recipe handed down from Chartrand's father's family.
"Indigenous culinary experiences showcase the deep connection between food, culture, and the land, providing visitors with an authentic taste of local cuisine," Chartrand says. "The menu and my presence at The Maple Leaf provide a positive space to experience my food and tradition as feasts are a part of ceremonies, mindsets, and overall joy."
The Maple Leaf is at 137 Banff Ave. in Banff. For more information or to see Chartrand's full feature menu, visit banffmapleaf.com.
Elizabeth Chorney-Booth can be reached at [email protected]. Follow her on Instagram at @elizabooth.